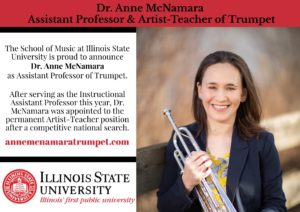 Lots of exciting things are taking place in the I.S.U. trumpet studio! Several students will be traveling to Mechanicsburg, PA next month to compete in the National Trumpet Competition! Please see the link below if you'd like to help them get there via their GoFundMe campaign.
I.S.U. National Trumpet Competition Trip
This month, Dr. McNamara accepted the assistant professor of trumpet position at I.S.U. meaning she will continue teaching at the university in a tenure track position.
In February, Anne will be performing on two concerts as part of the Red Note New Music Festival on Monday February 10th and Thursday February 13th.
On March 1st, the I.S.U. trumpet ensemble will be performing in the Afternoon of Brass concert at 5:00 pm in the CPA on campus.
In May, Dr. McNamara will be presenting two classes, a warm-up class and a masterclass for non-pro comeback players at the International Trumpet Guild Conference in Columbus, OH.